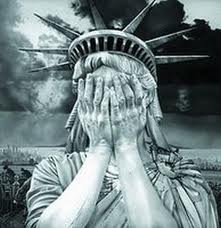 If the single word that typified the zeitgeist of 2011 was uncertainty, then the spirit of 2012 will probably be just more of the same piled higher and deeper. Are we at a turning point, a crossroads in our present social/political order that has prevailed since the end of the Second World War?
There is so much that is at play in the world today. For the last few weeks there have been many commentators who have written predictions about what will actually happen during the next 12 months. Predicting the future, even by the world's most outstanding analysts, remains a remarkably complex, error-prone task—perhaps akin to trying to solve a "triazzle."
In a triazzle each piece of the puzzle has three sides that all can be mixed and matched with the other pieces of the game in a number of seemingly logical ways. After being induced by visual clues to pursue one particular hunch, a gamer may initially find that the pieces do seem to easily fit the desired pattern until—while holding the very last piece of the puzzle —the gamer discovers that it's all wrong! And the seemingly sound, logical assumptions based on what seemed like solid evidentiary clues turned out to be in reality a misleading tease that kept the triazzle gamer from seeing how the pieces to the puzzle really fit together.
What we do know will happen in 2012 is that four of the five most powerful nations of the world—four of the five permanent U.N. Security Council member—will see some type of leadership changes. America and France have elections this year that may not return the incumbants to office. Russia also is holding presidential elections although they are mostly for show. Vladamir Putin will continue to run the nation and is just changing offices after playing a little game of musical chairs, moving back to the Kremlin offices of the presidency from the prime minister's more humble offices. In China, Xi Jinping is considered the most likely person to take over the presidency from Hu Jintao. And, it is estimated that around 70% of the rest of China's leadership will also change during the upcoming Chinese Communist Party's congress this fall.
As for the "Arab Spring," look for the steady rise to political power of Islamic fundamentalists in Egypt and in other newly "un-dictatored" countries of that region. Watch as the values held dear by the secular Western liberal democracies fail to thrive in the lands where the majority hold that Mohammed is the only sort of prophet that counts.
Regarding the European Union, look for more financial bad news that will put the euro and consequently the various euro-zone governments under increasing pressure. Look for the weakest of the weak European nations to seriously consider jumping the EU ship, or perhaps be pushed over the railing by Germany and the European Central Bank. The stronger euro-zone nations, however, will probably feel more heat to circle the wagons and cede additional financial/political sovereignty to a central E.U. authority, as that will be touted again, by Germany and the ECB, as being the only way to defend themselves from an increasingly bleak financial situation.
Yes, we all know that the developed world's public and private finances will continue to wallow in a morass of public and private debt. Presently, the value of the U.S. Treasury Bonds and the U.S. dollar have strengthened remarkably in recent months due to massive influxes of global capital seeking a safe haven from the uncertainties posed by the European Union's tottering euro. The U.S. dollar is still seen for the most part by financiers as the world's reserve currency.
But the question is for how long? The U.S. dollar at present is only the best of the worst in comparison to the Japanese yen or the E.U.'s euro. There is an on-going move by global central bankers to diversify away from holding too many U.S. dollars in their reserves. They are making major purchases of gold bullion. And the Chinese have been striking deals with their south-east Asian trading partners so that they will no longer use the U.S. dollar as their mutual medium of exchange for business. Instead these Asian tigers are agreeing to facilitate their mutual importing/exporting by directly exchanging their own national currencies, cutting out the previously essential middleman role formerly held by the U.S. dollar.
The United States government has an extremely serious problem of annual budget deficits now running in the trillions of dollars. Watch as this annual operating deficit inexorably adds to an already obscene mountain of American federal government debt that will soon be more than 80% of the entire nation's annual gross domestic product.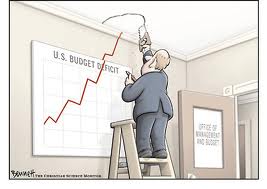 The only possible solutions to this coming U.S. budgetary Armageddon are to heavily depreciate the value of the dollar in order to allow exports to surge and/or to severely cut a wide variety of expenditures, including medicare and social security. But watch in 2012 as America fails to find a charismatic leader with a sound, convincing vision for the nation that can muster enough political will to do what needs to be done before it is too late.
Consequently, you should look for American public opinion to remain about evenly divided. And, thus, the financial and political reforms needed to effectively, and calmly turn around this looming national catastrophe in a timely rational manner, will be stymied.
Look for inflation to increase significantly as the stresses caused by too much debt, too much money printing, and not enough real economic growth continue. The savings and standard of living of millions of Americans will erode dramatically as a vampire inflation sucks the life out of the purchasing power of the U.S. dollar.
Did your grandpa or grandma ever pass on to you any of the old worthless Confederate paper dollars or Confederate bonds that the family got stuck with during the Civil War? Did any of your old folks pass on the stories of what it was like when the money was no good and what the family did to survive when hungry and desperate? Metaphorically speaking, the value of the U.S. dollar is presently propped up more by the Fed's push up bra, rather than by naturally abundant sound financial fundamentals.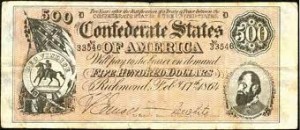 So, watch for the continuing, slow decline of the American Empire in 2012. Unless, of course, an unexpected black swan event occurs. War with Iran and a subsequent oil shock? A horrendous natural disaster that destroys a major American city or a critical agricultural crop or energy production and distribution? If something really bad happens to the U.S.A. then all bets are off about the decline being slow!
But most of all, you should watch out for your own spiritual state in 2012. Most of us have very little influence over what does go on in this world. In geo-politics and macro-economics we are merely spectators. We watch and make our plans accordingly. But in our own personal life we do have a great influence on what we think about, and the type of character, morals, and ethics we choose to live by. Over such things we have power and are accountable for how we exercise it. I'm not responsible for the government's finances, but I had better take care of my own state of affairs. In 2012, I repeat, we should be very watchful of our own spiritual state. As the Apostle Paul advises us:
But know this, that in the last days perilous times will come: For men will be lovers of themselves, lovers of money, boasters, proud, blasphemers, disobedient to parents, unthankful, unholy, unloving, unforgiving, slanderers, without self-control, brutal, despisers of good, traitors, headstrong, haughty, lovers of pleasure rather than lovers of God, having a form of godliness but denying its power. And from such people turn away!
But evil men and impostors will grow worse and worse, deceiving and being deceived. But you must continue in the things which you have learned and been assured of, knowing from whom you have learned them, and that from childhood you have known the Holy Scriptures, which are able to make you wise for salvation through faith which is in Christ Jesus. 2 Timothy 3:1-5; 13-15 (NKJV)
Jesus of Nazareth himself advised us to be spiritually alert and ready to serve him in sincerity and truth at such a time when he decides to once again intervene in world affairs to save humanity from the consequences of our own collective stupidity:
Be dressed, ready for service, and have your lamps shining. Be like servants who are waiting for their master to come home from a wedding party. When he comes and knocks, the servants immediately open the door for him. They will be blessed when their master comes home, because he sees that they were watching for him. I tell you the truth, the master will dress himself to serve and tell the servants to sit at the table, and he will serve them. Those servants will be blessed when he comes in and finds them still waiting, even if it is midnight or later.
"Remember this: If the owner of the house knew what time a thief was coming, he would not allow the thief to enter his house. So you also must be ready, because the Son of Man will come at a time when you don't expect him!" Luke 12:35-40 New Century Version

So don't forget to watch your own spiritual state while keeping an eye on 2012's many uncertainties.