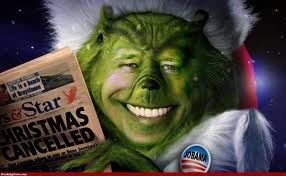 I challenge you to search the Bible from one end to the other to find a reference to the Christmas celebration or any mention of the early Apostolic church celebrating Christ's birth on December 25. I'm not talking about the gospel accounts describing the birth of Jesus at Bethlehem during the Fall [late September early October]—as the gospel accounts themselves and known historical facts reveal. I'm talking about scriptural proof that would establish that the early Church of Peter and Paul taught the observance of Christmas in late December or at any other time of the year. In fact it was nearly 300 years after the death of Jesus of Nazareth and his apostles before the Roman Catholic Church invented Christmas. During the period of Oliver Cromwell's Puritan Commonweath in both England and the New England colonies, about 1640-1660, the celebration of Christmas was forbidden:
During this brief period, the English Parliament banned the celebration of Christmas entirely, considering it 'a popish festival with no biblical justification', and a time of wasteful and immoral behavior.
See http://www.olivercromwell.org/faqs4.htm
The bottom line is that the celebration of Christmas is merely a human tradition having no divine sanction. Its origins rest with the Roman Catholic Church in the mid-300s A.D. Would Jesus himself condemn the Christmas celebration? Consider this comment that he made regarding man-made religious traditions developed, supposedly, for the purpose of honouring God:
These people honour me with their lips, but their hearts are far from me. Their worship is a farce, for they teach man-made ideas as commands from God (Matthew 15:8-10 New Living Translation).
How ironic. What the Bible does teach about true spiritual holy days and practices in the Law of God, for example in Leviticus 23, people mostly ignore and fail to reflect upon. While what the Scriptures do not teach—or even teach against—that, people do. And, they do such things while justifying themselves by saying they're honouring God and Jesus. We should rather consider carefully what the Scriptures are actually telling us:
And when the time came for their purification according to the Law of Moses, they [Mary and Joseph] brought him up to Jerusalem to present him to the Lord (as it is written in the Law of the Lord, "Every male who first opens the womb shall be called holy to the Lord") and to offer a sacrifice according to what is said in the Law of the Lord, "a pair of turtledoves, or two young pigeons." Now there was a man in Jerusalem, whose name was Simeon, and this man was righteous and devout, waiting for the consolation of Israel, and the Holy Spirit was upon him. And it had been revealed to him by the Holy Spirit that he would not see death before he had seen the Lord's Christ. And he came in the Spirit into the temple, and when the parents brought in the child Jesus, to do for him according to the custom of the Law, he took him up in his arms and blessed God and said, "Lord, now you are letting your servant depart in peace, according to your word; for my eyes have seen your salvation that you have prepared in the presence of all peoples, a light for revelation to the Gentiles, and for glory to your people Israel." And his father and his mother marveled at what was said about him. And Simeon blessed them and said to Mary his mother, "Behold, this child is appointed for the fall and rising of many in Israel [and now throughout the entire world], and for a sign that is opposed (and a sword will pierce through your own soul also), so that thoughts from many hearts may be revealed" (Luke 2:22-25 English Standard Version).
Of course, for many people any excuse such as Christmas is a good excuse to go shopping and to have a party. But the fact remains that Jesus and his apostles were the original Christmas grinches! They didn't keep it. Rather they kept the Holydays found in Leviticus 23. Christmas is nothing but bait and switch humbuggery. The sooner this world learns to discern between true biblical reality and the popular alluring counterfeits such as Christmas masquerading as a Christian festival, the sooner we will experience a global blossoming of genuine peace on this earth. As Jesus taught:
Do not think that I have come to do away with or undo the Law or the Prophets; I have come not to do away with or undo but to complete and fulfill them. For truly I tell you, until the sky and earth pass away and perish, not one smallest letter nor one little hook [identifying certain Hebrew letters] will pass from the Law until all things [it foreshadows] are accomplished. Whoever then breaks or does away with or relaxes one of the least [important] of these commandments and teaches men so shall be called least [important] in the kingdom of heaven, but he who practices them and teaches others to do so shall be called great in the kingdom of heaven. For I tell you, unless your righteousness (your uprightness and your right standing with God) is more than that of the scribes and Pharisees, you will never enter the kingdom of heaven (Matthew 5:17-20 Amplified Bible).