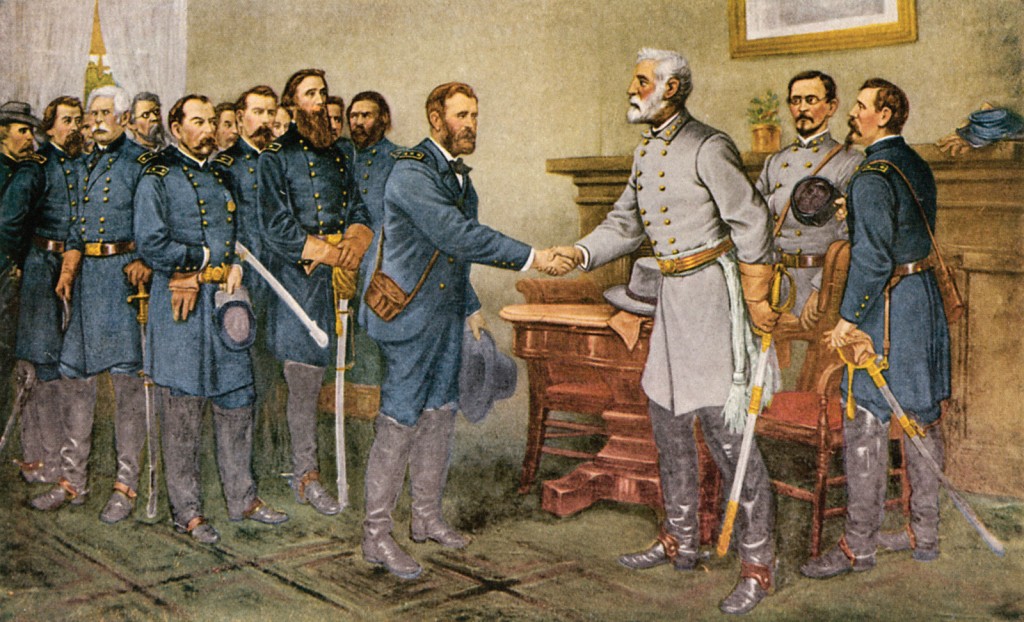 Does honour have a role in our society anymore? Or, is it just a relic of the past that had, perhaps, its last great hurrah at Appomattox with Robert E. Lee and Ulysses S. Grant along with all those Red Badge of Courage soldiers of the American Civil War?
For many in our modern society the whole concept of honour seems to be antiquated, quaint, or maybe even dangerous. Certainly, some today talk up their own "honour" as ugly window-dressing to excuse their own bad and or even evil behaviour. As poet Ralph Waldo Emerson wrote of one such hypocrite: "The louder he talked of his honour, the faster we counted our spoons."
Are we losing our sense of honour? Over 2,100 years ago, an emancipated Syrian slave named Publilius Syrus, who was publically recognized by Julius Caesar for his quick wit and wisdom, asked, "What is left when honour is lost?" The answer, of course, is… not much and not for long.
Think about this. For the last 30-40 years the Western liberal democracies have supported corrupt autocratic despots throughout North Africa and the Middle East despite the fact the all these nations' governing elites actively were suppressing with force or buying off with bribery their own populations. Western governments sold out their political ideals in favour of realpolitik compromise in order to continue accessing cheap oil.
The European and North American governments were even willing to tolerate Muammar Qaddafi—a serial mass murderer proven to be responsible for the deaths of hundreds of their own citizens not to count the thousands of Libyans who perished at his orders. Our Western governments were willing to hold their noses despite Qaddafi's stench of death just to continue accessing Libya's "sweet crude" at cheap prices. Crude indeed! Where was honour? It had vanished in the West.
Six months ago on August 28, 2010, conservative media personality Glenn Beck held his 'Restoring Honour' rally on America's National Mall in Washington, D.C., drawing a crowd of about 100,000. Enormously controversial, perspectives on Beck and his rally diverged sharply according to the typical American left-right political divide.
Fox News host Bill O'Reilly described it as an "appeal for a return to Judeo-Christian values" and called it "a huge victory for Glenn Beck and Americans who believe that his message of honour and dignity is worthwhile." Conversely, liberal radio host Bill Press, who attended the rally personally, criticized the "Christian religious fervor" of the event, remarking that at one point he expected Beck "to part the Reflecting Pool and walk across it." Eugene Robinson of The Washington Post described Beck as an "egomaniacal talk-show host who profit(s) handsomely from stoking fear, resentment and anger", while calling his "absurdly titled" rally "an exercise in self-aggrandizement on a Napoleonic scale.http://en.wikipedia.org/wiki/Restoring_Honor_rally"
It is amazing how the subject of honour, or teaching honour, or rebuilding standards of honour should be such a divisive, hot-button issue. Nevertheless it is! And the reason for this controversy over restoring honour is because the old, once agreed upon moral and ethical standards that once underpinned the concept of honour in our civilization have also vanished.
Recently, Brigham Young University, a private Mormon university in Provo, Utah, created quite a stir in the collegiate sports world—or maybe, astonishment is the better word—when it disqualified Brandon Davies from BYU's highly ranked basketball team just prior to the NCAA championship tournament. Now for the uninitiated sportsphobe, Brandon Davies is not just your average hoopster. He is, or rather was, the BYU b-ball team's superstar. Some say that it was his talent on the court that had made BYU a NCAA trophy contender. But whatever Brandon Davies basketball ability, it made no difference to the BYU administrators concerned with upholding the honour of their institution. Davies ran afoul of BYU's Honour Code by having pre-marital sex with his girlfriend and that got him cut from the eligibility list. The BYU Honour Code cuts no special deals for "privileged personalities." It states rather simply:
Be honest
Live a chaste and virtuous life
Obey the law and all campus policies
Use clean language
Respect others
Abstain from alcoholic beverages, tobacco, tea, coffee, and substance abuse
Participate regularly in church services
Observe the Dress and Grooming Standards
Encourage others in their commitment to comply with the Honor Code
http://saas.byu.edu/catalog/2010-2011ucat/GeneralInfo/HonorCode.php#HCOfficeInvovement
Let's be frank. With the exemption of Brigham Young's Mormon idiosyncrasies regarding "alcoholic beverages… tea, coffee," the rest of the BYU Honor Code is soundly based on the Judeo-Christian scriptures that have been the primary moral foundation for much of the Western world's sense of personal honour for some 2,000 years. But in the "progressive" 2011 world of university amateur sports, such a code of honourable conduct no longer exists—or, perhaps it is more accurate to say, it is no longer really enforced even if those educational and sports institutions still have it on the books. To them even the mere idea of an honor code is laughable! Why?
Well, winning university sports programs equal big money: tens of millions of dollars from broadcast license fees, ticket sales, swag sales, corporate sponsorship and alumni donations. Winning is the only thing that counts to those institutions of lower learning. The profitable ends are seen as justifying the corrupt means. This is just like Western governments tolerating oppression and the spilled blood of innocents so they can keep the cheap "sweet crude" flowing. They're immorally equivalent. Joe O'Connor, a reporter with National Post newspaper, observed:
College sports in the United States are awash with scurrilous dealings and out-and-out skullduggery. Schools with long and glorious winning traditions and boosters with money to burn will often resort to, well, just about anything to entice a superstar high school athlete to play for them and, once they are enrolled, do almost anything they can to keep them happy.
Need some new clothes? Done. Spending money? No problem. A car? Take mine. Free gas? Fill 'er up. Having trouble in school? We'll write the test. Homesick? How about a prostitute? Yes. A prostitute. College athletes, the best of the best, are treated like gods. Naughty gods, while college coaches and athletic administrators are the great corrupters.
http://sports.nationalpost.com/2011/03/05/student-of-morals-byu-star-dropped-for-premarital-sex/
As the acerbic satirist H.L Mencken once wrote, "The difference between a [im]moral man and a man of honor is that the latter regrets a discreditable act, even when it has worked and he has not been caught." (Prejudices: Fourth Series,' 1924). Pardon my brackets of scribal emendation.
Today, while many American lefties discount the idea of having a rally to promote the idea of "restoring honour," it should be noted that honour is the main reason the United States of America survived and prospered to become the most powerful nation in the world after its Civil War of some 150 years ago. How so?
On April 9, 1865, Robert E. Lee, commanding general of the Army of Northern Virginia, was staring defeat in the eye. The southern Confederate States of America were in deep trouble after four years of warfare with the much richer and materially stronger northern United States of America. Surrounded on three sides by his foes, Lee knew that the history books are almost always written by a war's victors. Typically in a civil war/rebellion situation, the victors get the spoils while the losers get it in the neck—just like in Libya today.
If Robert E. Lee surrendered to the opposing Union general, Ulysses S. Grant, he had no idea what his fate or that of his men would be. Humiliation? Prisoner of war camp? Execution as criminals? Neither Lee nor his men were afraid to die. They had already proven that countless times during the previous four years. But dishonour was something else. What should he do? Lee's alternative to surrendering his army as a single unit was to allow his army to disband into small units and melt into the forested hills adjacent to his position and to carry on the Confederate struggle by guerrilla warfare.
The odds were that the South might actually beat the North in a protracted, vicious guerrilla conflict, just like the Spanish and Russians beat Napoleon or like, a century later the North Vietnamese and Chinese beat the Americans in Southeast Asia. In fact, historically, Abraham Lincoln and his Union generals' greatest fear was that the weaker southern Confederacy would opt for guerrilla warfare in order to even the odds with the strong northern Union. They would bleed them white through low intensity conflict and countless small attacks and ambushes. As University of Maryland historian and Wall Street Journal contributor Jay Winik writes:
Total conquest could be resisted, until, perhaps, attrition and exhaustion would lead the North to sue the South for peace…. [Lee] listened to one of his most trusted advisers in the cool early morning hours of April 9…he was doing some quick calculations in his head about the effect that generations of bushwhacking—guerrilla warfare—would have on the country…. What was honorable? What was proper? What is right? He quickly reasoned that a guerrilla war would make a wasteland of all that he loved. Brother would be set against brother, not just for four years, but for generations. Such a war would surely destroy Virginia [and the South], and just as surely destroy the [northern United States] as well.

As [Lee] had once said, 'It [is] better to do right, even if we suffer in so doing, than to incur the reproach of our consciences & posterity." Thus, Robert E. Lee, so revered for his leadership in war, made his most historic contribution to peace. By this one momentous decision, he spared the country the divisive guerrilla warfare that surely would have followed, a vile and poisonous conflict" (April 1865, The month that saved America, HarperCollins, 2001, pp. 164-154.)
So, how do we in the 21st Century re-build a sense of honour amongst our peoples in the West? Perhaps surprisingly to some, Jesus of Nazareth pointed the way during his sermon on the mount when he said:
Trivialize even the smallest item in God's Law and you will only have trivialized yourself. But take it seriously, show the way for others, and you will find honour in the kingdom. Unless you do far better than the Pharisees in the matters of right living, you won't know the first thing about entering the kingdom [of eternal life and light] (Matthew 5:19-20 The Message paraphrase).
This is a remarkable teaching by the Son of Man linking moral thought and godly behaviour to honour. The Ten Commandments, in effect, make for a very effective code of honour. It is short in form and fairly easy to commit to memory. However, its profound, succinct principles have stood the test of time in providing the basis for serious reflection on and guidance in most of the dilemmas and questions that come our way in this life. Blow the dust of your Bible and check them out in either Exodus 20 or Deuteronomy 5.
As King David of ancient Israel would sing under the stars,
1 LORD, who may abide in Your tabernacle?
Who may dwell in Your holy hill?
2 He who walks uprightly,
And works righteousness,
And speaks the truth in his heart;
3 He who does not backbite with his tongue,
Nor does evil to his neighbor,
Nor does he take up a reproach against his friend;
4 In whose eyes a vile person is despised,
But he honors those who fear the LORD;
He who swears to his own hurt and does not change;
5 He who does not put out his money at usury,
Nor does he take a bribe against the innocent.
He who does these things shall never be moved. Psalm 15
Just think what a different world this would be if we actually embraced and lived by such a code of honour.