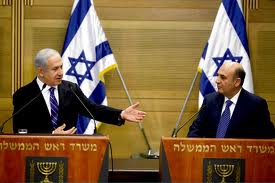 Last week the most astonishing news came out of Israel. Prime Minister Benjamin Netanyahu put together, unexpectedly, a much larger governing Likud coalition for the State of Israel by bringing into the government the middle-of-the –road, politically speaking, Kadima party. This new unity government controls a little more than 78 percent of the votes in the Israeli parliament. Very few governments in the Western, democratic world can match that sort of consensus. In fact, the weighty impact of this majority is described by one Israeli columnist as a "hundred tons of solid concrete" (Charles Krauthammer, Netanyahu's unity government prepares the ground for May 1967, National Post, May 11, 2012). What does Netanyahu's move mean?
Oh yawn, you think. Another boring news story about byzantine coalition-building? I mean, over the weekend all we heard about was how the Greeks have been unable to cobble together enough similarly minded parties to run a government that would either go along with the German-imposed austerity plan or reject it. This political deadlock will most certainly force that nation back to the polls in another 3 or 4 weeks to see if the Greek nation can achieve a majority consensus one way or the other.
But what is happening in Israel, today, is diametrically the opposite of what is happening in Greece. Yet these opposites are part of a continuum of change that is going to dramatically rock the world in the near future. How? Why?
In Israel it is clear that Netanyahu in making his coalition deal with Kadima turned down an opportunity to call elections for this fall at a time when the polls clearly indicated Likud would win another mandate for four more years of government and do it in a manner that would increase the number of the Likud seats in the Knesset.  So why make a big tent coalition that at the most has only 17 more months in power before parliamentary elections must be held? The math doesn't make sense on the face of it. Why pick 17 months of governing authority instead of 48?
Well, Netanyahu isn't doing the coalition deal to force concessions from his right-wing religious coalition partners about requiring the ultra-orthodox Israeli Jews to actually do their compulsory army service like all the rest of the Israelis. Though it will help.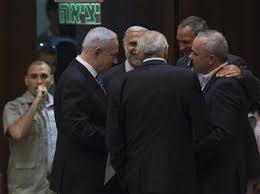 Nor is he doing it to be able to make painful concessions to the Palestinians in peace talks. The Palestinians really can't bring themselves to make a deal that Netanyahu could live with. After all, deep down, the Palestinians are holding out for the whole Canaan pie not just a slice of the pie in the West Bank and Gaza. Peace talks between the Palestinians and the Israelis are a zero-sum game. That's why no solution has been able to be found ever since the United Nations split up the old British mandate of Palestine in 1947. Netanyahu understands this. So that is not a reason for his new super-majority coalition.
The reason for this "hundred tons of solid concrete" is to make a crucial, nationally existential decision within a rather narrow window of five months beginning now and running to shortly before the U.S. elections on November 11, 2012: Does Israel stop Iran in its headlong drive for nuclear weapons or not?
Israel must act during this time while Egypt and Syria are still divided and in confusion. Israel must act while Barak Obama still needs the votes of American Jews and those of many other Americans who are both friends of Israel and democrats. Once Obama is re-elected this fall, which is likely, Netanyahu doubts his tiny nation could expect much help from what was once its most important ally.
Israelis have had to learn the hard way that it is foolish to ignore the threats of annihilation uttered long and loud by their enemies.  The effects of such a conflict as a catalyst will be profound, and unsettling, leading to many unanticipated consequences in both the European Union, the United States, and  other nation states.
It is amazing to think that here we are in the 21st Century and still a little nation called Israel and the Jews continue to play a central role in the theatre that is Western civilization. Consider this prophecy that is as current today as when it was originally penned about 520 B.C by the Prophet Zechariah:
I have decided that Jerusalem will become a bowl of wine that makes the neighboring nations drunk. And when Jerusalem is attacked, Judah will also be attacked. But I will turn Jerusalem into a heavy stone that crushes anyone who tries to lift it.

When all nations on earth surround Jerusalem, I will make every horse panic and every rider confused. But at the same time, I will watch over Judah. Then every clan in Judah will realize that I, the Lord All-Powerful, am their God, and that I am the source of their strength.

 At that time I will let the clans of Judah be like a ball of fire in a wood pile or a fiery torch in a hay stack. Then Judah will send the surrounding nations up in smoke. And once again the city of Jerusalem will be filled with people (Zechariah 12:2-6 Contemporary English Version).